Ford City Northern Railway
WWW Home of the N-Scale model FCNRWY
Welcome to the Ford City Northern homepage, which is dedicated to the hobby of N-Scale model railroading and to the N-Scale model railroad that I have built over the last decade.

Jerry G.
The FCN is a free-lanced railway, meaning it is not modeled after a specific prototype road. But, is made up from ideas (rolling stock, operations, etc....) taken from many prototype roads. The majority being taken from the Wisconsin Central Ltd. and Wisconsin Southern RRs. The terrain is modelled after Central Wisconsin, with its abundance of Agriculture and Dairy Farming. Farm equipment and related industires abound. In fact, there are seven dairy farms modelled in one form or another.

The layout is setup to run point-to-point. But a "connecting track" was added to allow for continuous running for open houses, when I am operating it alone or when I just want to see the trains go by.
The overall measurements are: 24 feet long (with NEW Extention), 15 feet wide and stands at an average height of 52" from floor to track level. Train control is DCC and comes from a (1) NCE(North Coast Engineering) PH1 Powerhouse PRO command station with a built-in 5 AMP booster. Operations are controlled by NCE Throttles, (2) PROCABs, (3) CAB-06s and (2) CAB-04s intermediate cabs. These cabs connect to the layout through (7) Cab Bus Fascia Panels (#UTP).
The Locomotive roster consists of locomotives based on Atlas B23-7s. (3) B23ES7s, (1) B23ES7B and (2) B32-9Ws (using B23-7 chassis') and a B20GS. All the units are painted in FCN's present "Blueberry Blue" paint scheme. An computer with monitor (24 inch TV) was added in August 2019, better operate the layout.
Show News*** Well there are no shows planned for the near future.
Layout News**** What was called the "FCN Extension" has been pretty well intergrated into the layout. A NEW Staging Yard has been added. (Early 2019). This yard allows for better operations as it simulates ALL Points, North and South off the layout.
Jerry G.
NEW* You can keep tabs on the latest news on the FCN. On "FCN Railfan page" on Facebook. https://www.facebook.com/FordCityNorthern/
Below is a drawing of the layout of the layout. The shortline's main shop and operations are located in Ford City. Wautoma, is the home to the largest industry on the FCN. Wautoma Pulp & Paper. While the other towns of Randolph, Princeton and Wild Rose host agricultural business such as a CO-OP, Canning Plant, Feed MIll and a Creamery. The rail bridge just north of Wautoma, offers a interesting view as it crossing near the Dam and over the White River.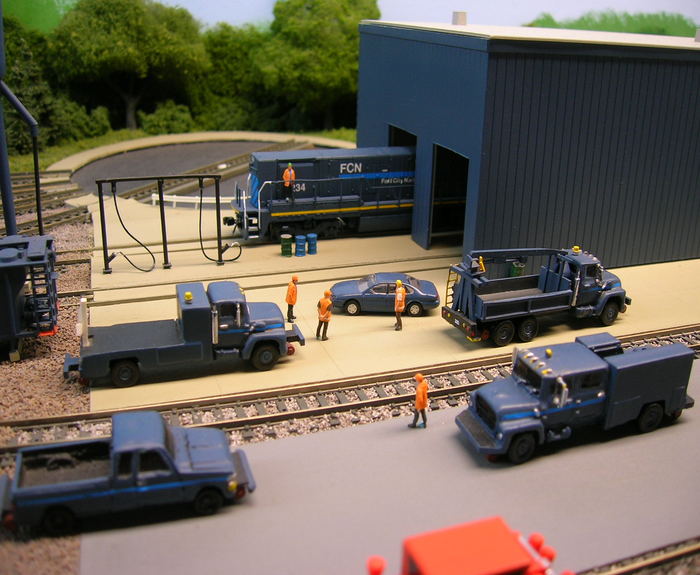 Another day begins on the FCN. As the Highway/Rail crew leaders gather to assign the days work schedule. The shortline's only "B-unit" has just been shopped and is getting last minute once-over before going back out on the rails.
If you have any questions or comments, feel free to email me at....
You call also see the FCN on facebook, on the "FCN Railfan Page"