Maintenance of Way
Maintenance of Way
The FCN has an array of equipment used to maintain the rails..
This page will host the Trucks and Rail-base equipment. As well as some visiting pieces from out-side venders.
All the equipment made by Group G Engineering. Will be on the Group G page.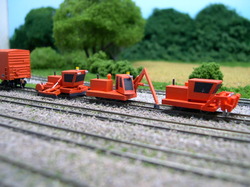 FCN's Maintenance Train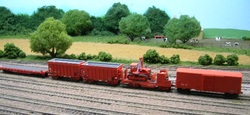 FCN's maintenance train, consisting of: Tool car #20, Sideboom Tender #21, Bi-Hopper Ballast cars #22 and Flatcar #23. All in FCN "Maintenance" Orange.
Pettibone Track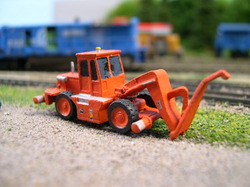 This is a Pettibone, Swingmaster. A do-all piece of equipment.
Our Hi-Rail trucks and Cars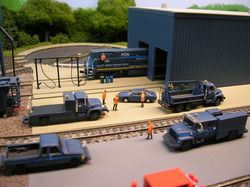 Trucks on the FCN are ALL Hi-Rail and include: L8000 Crew-cab Service trucks , L8000 Work truck with Knuckle boom. L8000 Super truck and a F250 Extented cab pickups. FCN also has a few Ford Taurus, for executive work.
Rail-bound equipment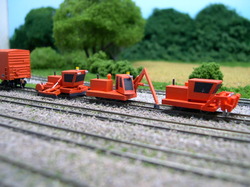 A Ballast Regulator, Tie Crane and a Ballast Tamper.
SRS Track Analyzer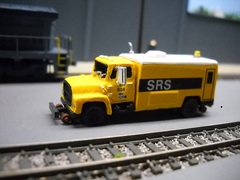 The SRS corp. supplies track/rail testing equipment. This equipment analyses the condition of the rail surface. Which helps in catching track defects early.
Holland Rail Inc.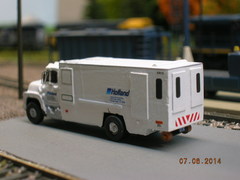 This truck is a "Portable" Rail welder. Used to join sectioned rail, into the now standarded continuous rail. It is a self-contained unit.
Updated September 1st, 2019